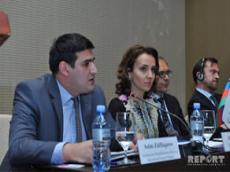 By Azernews
By Amina Nazarli
The establishment of a private credit bureau will help improve Azerbaijan's position in the World Bank's Doing Business report.
Asim Zulfugarov, the deputy executive director of the Financial Market Supervisory Body announced about this at an event dedicated to establishment of the country's first Private Credit Bureau in Baku on April 19.
Zulfugarov said the creation of private credit bureau will allow increase the coverage of information on borrowers.
"The Centralized Credit Register of Azerbaijan [operating since 2005] received information only about 36 percent of the adult population," Zulfugarov said.
Formation of credit histories of borrowers in Azerbaijan began in 2005 after the establishment of the Centralized Credit Registry Service (CCR). The register covers the full range of information on banks, non-bank credit institutions, borrowers, owners of large participation packages in the capital of borrowers, loans and pledges for them.
The founders of the first Private Credit Bureau include 21 organizations, among them 19 banks, one insurance company and one non-bank credit organization. Together with them, the list of founders includes a technical partner - Creditinfo, which owns 51 percent of the shares of the bureau.
CEO of CreditInfo Group Reynir Gretarsson, addressing the event, said that Elchin Ahmadov, former advisor to the chairman of the board at the International Bank of Azerbaijan (IBA), was appointed as executive director of the company Creditinfo Azerbaijan, which will become a manager of the first Private Credit Bureau.
Gretarsson said that in total, the Board of Directors of the company includes nine people.
He said the credit bureau will receive information not only from banks but also insurance and leasing companies, mobile operators and others.
"The private credit bureau will help credit institutions reduce their costs, better assess risks and increase the availability of credit products [for the population]," he added.
Elchin Ahmadov, who talked to reporters on the sidelines of the event, said that the first Private Credit Bureau in Azerbaijan will switch to a full-fledged mode of operation during 2017.
"It is too early to talk about specific deadlines, but the market is ready for this kind of information, and the question remains to increase the information [about borrowers] and to familiarize the financial sector with the broader range of services that the bureau will provide," Ahmadov said.
Anyone, once a year will be able to obtain information about him/her collected in the credit bureau through ASAN service, according to Ahmadov.

He also noted that the private credit bureau is interested in expanding the number of participants. "We believe that the membership of the credit bureau will expand, and our task is to involve as many credit organizations as possible in this process," the executive director said.