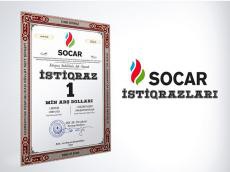 By Azernews
By Nigar Abbasova
The bonds of Azerbaijan's energy major SOCAR that rapidly gained high level of market uptake within the country enjoy big popularity among foreign investors.
Head of the newly established SOCAR Capital Elkhan Hasanov told Trend that the interest of foreign investors is due to its high interest yield given international standards. Besides the bonds provide a 100 percent guarantee for both sellers and purchasers.
"Foreign investors have already applied to investment companies to acquire the bonds. Some of them have submitted necessary documents and are currently passing the process of registration. Foreign investors are already among owners of obligations."
He noted that foreign investors comprise both large purchasers and those purchasing small number of bonds.
The company issued some 100,000 dollar bonds with nominal value of each $1,000 in September 2016, while the bond sale on the secondary market was launched on October 18.
Operations on the secondary market provided foreign individuals and legal entities with a right to buy bonds from their owners, as only Azerbaijani citizens and local companies had a right to obtain bonds on the primary market.  
Commenting on the influence of dollar bonds on the securities market, Hasanov said that the financial documents have revived the market.
"Following the process of devaluation, the securities market practically stagnated. Of course, the market was filled with state bonds issued by the Finance Ministry, but they are being sold only on the primary market, as owners of such bonds prefer to preserve them rather than trade on the secondary market," he clarified.
As for the presence of SOCAR in the securities market of the country, he said that the company will spare no effort to develop the securities market.
Highlighting the possibility of further issuance of bonds, Hasanov said that the issuance will likely be continued, while the currency denomination and volume of issuance will mainly depend on demand in the market.
SOCAR also doesn't exclude the possibility of issuing bonds in the country's national currency, manat, in the future.
The annual interest rate on SOCAR's bonds stands at the level of 5 percent. The figure is higher than the rates applied in reference to USD deposits placed in banks, where the annual interest rate on dollar deposits currently stands at 2.5-3 percent. The interest on bonds is being paid once a quarter.