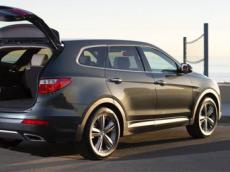 Earlier this year, Hyundai's U.S. chief Dave Zuchowski revealed that the Korean automaker was considering a third premium model to join the existing Genesis and Equus sedans. Zuchowski didn't say what segment the third model would compete in, but there have been rumors of a small, BMW 3-Series-like sport sedan being developed at Hyundai.
Now, Zuchowski has revealed to Edmunds that Hyundai is considering a premium crossover to take on the likes of the Lexus RX. But unlike the Genesis and Equus, which sit on their own rear-wheel-drive platforms, the new crossover would likely be based on an existing Hyundai model, most likely the Santa Fe.
"We definitely studied a premium people mover, if you will," Zuchowski said. "It is not in the plan and it is not eliminated—it is something under consideration."
The challenge, Zuchowski explained, is making the premium crossover stand out from Hyundai's regular offerings, a task made all the more difficult because of Hyundai's decision to sell both its regular cars and premium ones under the same roof and under the same brand.
Note, there are other possibilities for more premium models from Hyundai. Though not mentioned in the Edmunds article, Hyundai recently repositioned its Genesis Coupe more upmarket by eliminating the base four-cylinder model (the 2015 Genesis Coupe is now priced from $27,645 with shipping). The move is thought to pave the way for a new, more upmarket successor to the Genesis Coupe which is expected to come with V-6 and V-8 powertrain options.

/Yahoo/