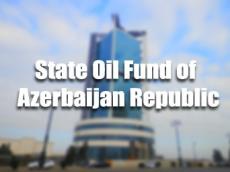 SOFAZ invests over $2 bln in Southern Gas Corridor CJSC
Azerbaijan's state oil fund SOFAZ, an entity that accumulates and manages Azerbaijan's oil and gas revenues, has invested $2.164 billion in Southern Gas Corridor Closed Joint Stock Company in the long term, SOFAZ said.
The investment was made by purchasing the bonds of Southern Gas Corridor CJSC, which issued bonds worth $917,320,800 and $1,246,355,000 within two emissions.
In late July, the new issues of the Southern Gas Corridor's bonds amounting $1.2 billion was put for mass sale at Baku Stock Exchange (BSE), and InvestAZ Company was chosen as the broker of the acquirer.
The total volume of the issued bonds was $1,246,355. Its prospectus was registered by the Azerbaijani State Securities Committee. Some 12,463,550 bonds with a nominal value of $100 each were also issued.
The maturity is 720 days (two years) with a yield - a six-month Libor plus one percent. The interest will be paid in every six months.
On February 25, Azerbaijan's President Ilham Aliyev signed a decree on establishing a CJSC for effective management of energy projects.
The decree involved projects connected with the second stage development of the giant Shah Deniz field and the expansion of the South Caucasus Pipeline, Trans-Anatolian (TANAP) Pipeline, and the Trans-Adriatic (TAP) pipeline.
SOFAZ has been assigned to provide an equity financing for the CJSC.
The funds that will be provided for the CJSC will provide a long-term investment on return conditions.
The gas to be produced at the second stage of Azerbaijan's Shah Deniz field development will be the main source of Southern Gas Corridor, which envisages the transportation of the Caspian gas to European markets.