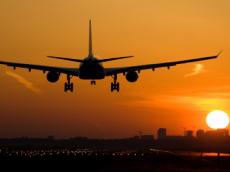 Azerbaijan and Iran intend to study the issue of establishment of two new flights, the text of the protocol signed at the ninth meeting of the bilateral intergovernmental commission on trade-economic and humanitarian cooperation held in Baku said.
"The parties will examine the issue of opening flights for Nakhchivan- Tehran-Nakhchivan, and Mashhad-Baku-Mashad, then the exchange of information on research results will be held," the document said.
At present, the flights on the Baku-Tehran and Baku-Tabriz routes are being carried out between the two countries.
Furthermore, the Iranian side will provide Azerbaijan with design and estimate documents for the project on pedestrian and vehicular bridge on the Julfa (Azerbaijan) - Julfa (Iran) border in order to cover the relevant costs.
"Iran will also consider the issue of transit permit of Azerbaijani cars and trucks on the territory of Azerbaijan through the Shakhtakhti-Poldesht border checkpoint," the document said.
The parties also agreed to resolve the problems at the customs point in Astara regarding unloading of Azerbaijan`s vehicles.