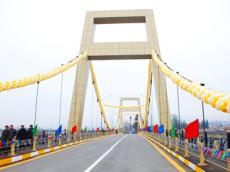 The governments of Azerbaijan and Iran reached an agreement on the construction of a new railway, a highway and the second pedestrian bridge on a coordinated area of the Astara (Iran) - Astara (Azerbaijan) border checkpoint, Azerbaijani Minister of Economy and Industry Shahin Mustafayev said during the Azerbaijan-Iranian business forum in Baku on Aug. 7.
"The preparation of design estimates for the pedestrian bridge was coordinated with the Iranian side," he said.
The Azerbaijani and Iranian sides will equally finance the construction of a pedestrian bridge, head of the Astara border checkpoint Hamid Reza Mohammadi told Trend.
"We will make every effort to build a bridge as soon as possible," he said. "I believe that this pedestrian bridge will be commissioned less than within a year."
Both countries agreed to accelerate the work as part of the construction of the Rasht-Astara railway. The Qazvin-Rasht-Astara (Iran)-Astara (Azerbaijan) railway is being constructed as part of the North-South international corridor.
"The Iranian side completed about 80 percent of the construction of the Qazvin-Rasht line," Azerbaijani minister said. "Currently, the remaining part is being constructed."
"The Azerbaijani side intends to complete constructing its part of the railway line soon, which will be done in a short period of time," Mustafayev said.
The project is expected to be completed in early 2015. Azerbaijan, Russia and Iran are involved in the Qazvin-Rasht-Astara railway construction.
Some $ 400 million investments are planned to be made in the construction. It is predicted that the turnover in the first phase will be six million tons thanks to this corridor and will reach 15-20 million tons in the future.
"The construction operations from Baku to Astara are planned to be completed soon," the minister said. "The government has taken all necessary measures. The sources of funding were determined."

/Trend/