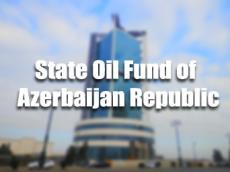 By AzerNews
Azerbaijan's state oil fund SOFAZ has gained over $102.8 billion from 2001 to July 1, 2014 by implementing the project of developing the giant Azeri-Chirag-Gunashli (ACG) block of oil and gas fields in the Azerbaijani sector of the Caspian Sea.
The fund earned around $7.78 billion from ACG project from January 1 to July 1, SOFAZ told Trend Agency on July 16.
The ACG block of fields has been active since 1997. Production started from the Chirag part of the field. It was followed successfully by Azeri Project; Central Azeri production in February 2005, West Azeri in December 2005, and East Azeri in October 2006.
The Deepwater Gunashli section launched production in April 2008.
SOFAZ also said from 2007 to July 1, it gained $1.893 billion by implementing the development project of the giant Shah Deniz gas condensate field in the Caspian Sea.
SOFAZ earned some $296 million as part of the Shah Deniz project from January 1 to July 1.
The Shah Deniz field, one of the world's largest gas-condensate fields, was discovered in 1999. Its reserves are estimated at 1.2 trillion cubic meters of gas. Overall, the field has proved to be a secure and reliable supplier of gas to Azerbaijan, Georgia, Turkey, and Europe.
SOFAZ, an entity that accumulates and manages Azerbaijan's oil and gas revenues, was established in 1999 with assets worth $271 million.
The main aims of the fund include, accumulation of revenues, investment of assets abroad to minimize negative impacts on economy, preventing the 'Dutch disease', ensuring savings for future generations, and maintaining the current social and economic standards in the country.
The assets of SOFAZ has increased by 2.07 percent as of April 1, 2014 compared to early 2014 ($35,877.5 million), standing at $36,618.4 million.
Since the first quarter of 2012, the fund started purchasing gold, and the amount of the purchased gold reached to 30 tons 175 kg (970,146 ounces) as of April 1.