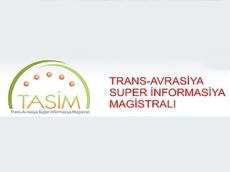 The lack of a decision on the status of the Caspian Sea hampers the construction of the underwater segment of the Trans-Eurasian Information Super Highway (TASIM), Alexander Kislitsyn, the Infrastructural Projects Executive Director of KazTransCom JSC told Trend on July 14.
He pointed out that the problems with border crossing still remain and a full decision on this issue hasn't been adopted yet.
"Kazakhstan's Foreign Ministry and the Ministry of Communications believe that some progress is possible on this issue. There are legal provisions that will allow us to smoothly cross the sea border. The five-sided agreement [on the status of the Caspian Sea] hasn't been reached so far. And this situation confuses the lawyers, who believe that it will likely set a precedent in the practice of law," he said.
Kislitsyn went on to add that it is planned to hold the commission's meeting with participation of representatives of the five Caspian Sea countries to determine whether it is a sea or a lake.
"Our choice depends on their decision," the executive director said.
The Caspian Sea littoral states signed a Framework Convention for the Protection of Marine Environment of the Caspian Sea in November 2003. In July 1998, Russia and Kazakhstan signed an agreement on the delimitation of the northern part of the Caspian Sea in order to exercise sovereign rights for subsoil use.
In May 2002 they signed a protocol to this agreement. On Nov. 29, 2001 and Feb. 27, 2003, Kazakhstan and Azerbaijan respectively signed agreements on the delimitation of the Caspian Sea and related protocol.
Additionally, Kazakhstan, Azerbaijan and Russia signed an agreement on the delimitation of adjacent sections of the Caspian Sea on May 14, 2003.
Nevertheless, Kislitsyn underscored that some progress has been achieved over the last six months after signing a memorandum of understanding in December 2013.
The executive director of KazTransCom JSC believes that the informational background has improved in Kazakhstan since then, which will speed up the implementation of the project.
"Creation of an informational background allowed many to know about the project. Many showed interest in Azerbaijani-Kazakh relations, as without creating public opinion, we will not be able to implement this project that directly pegs to end users," Kislitsyn said.
Currently, the TASIM project includes Russia (Rostelecom), Kazakhstan (KazTransCom), Turkey (TurkTelecom), China (China Telecom), and Azerbaijan (represented by the Center for International Relations and Calculations of the Ministry of Communications and High Technologies).

/Trend/