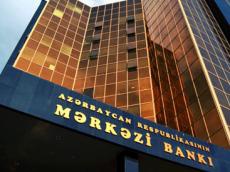 As of June 1, 2014, the expanded monetary base in Azerbaijan amounted to about 11.366 billion AZN, the statistical report, posted on the website of the Central Bank of Azerbaijan (CBA) said.
The monetary base in the country grew by 11.5 percent, on annual basis. For comparison: in May 2013 this figure amounted to about 10 192 billion AZN.
The report noted that as of June 1, 2014, the monetary base in AZN was made up about 11.272 billion AZN compared to about 10.113 million AZN as of June 2013.
The volume of money in circulation amounted to about 10 751 billion AZN during the reporting period, while this figure was about 9 608 billion AZN on June 1, 2013.
As of June 1, 2014, mass ratio of cash in circulation in the monetary base made up 94.6 percent compared to 94.3 percent on June 1, 2013.
Bank reserves were equal to 599.9 million AZN, which is 7.4 percent more than the end of May, 2013 (558.6 million AZN).

/Trend/