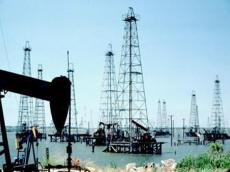 Azerbaijani State Oil Company (SOCAR) has completed the appraisal drilling at the Agburun-Deniz offshore structure in the Caspian Sea's Azerbaijani sector, according to a message from the company.
SOCAR said the drilling works conducted from the "Khazar-6" type floating drilling rig in the south-west wing of the structure is aimed at exploring the stratigraphy, lithology, and the oil and gas bearing capacity of the area.
Following the works, the well's depth was brought to 860 meters. The well was drilled at a depth of 10 meters.
Currently, the well is being prepared for the perforation, development and testing. The Agburun-Deniz structure is located six kilometres south of the West Absheron field.
Under the State Program for the Development of the Fuel and Energy Sector of Azerbaijan (2005-2015), SOCAR's priority tasks include increasing oil and gas production and, accordingly, the discovery of new oil and gas fields.

/Trend/