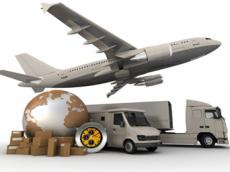 More than 15.4 million tonnes of cargo were transported by vehicles on the territory of Azerbaijan in January-May 2014, which is 9.4 percent less than in the same period of last year, the Azerbaijani State Customs Committee said on June 18.
The export of goods for this period amounted to 12.04 million tonnes, imports - 3.37 million tonnes.
Some 42,070 tonnes of cargo were exported by ships, 927,700 tonnes by railway, 207,400 tonnes by vehicles, 20,990 tonnes by planes and 10.8 million tonnes by stationary vehicles in January-May 2014.
Some 728,900 tonnes of cargo were imported to Azerbaijan by ships, 1.85 million tonnes by railway, 776,200 tonnes by vehicles and 4,630 tonnes of cargo by planes during this period.

/Trend/