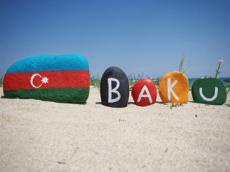 By AzerNews
Azerbaijan's tourism industry has entered a new stage of development.
This was said by Azerbaijan's Culture and Tourism Minister Abulfaz Garayev at a conference on the results of the EU's twinning-project on strengthening the capacity of the Department of Tourism of the Ministry.
The EU project was implemented by the Federal Procurement Agency of Austria and the State Department of Tourism of Lithuania. The total cost of the project amounted to 900,000 euro.
The ultimate goal of the four-component project was to increase the role of the tourism sector in the process of the diversification of Azerbaijan's economy.
Garayev said the flow of tourists into the country has increased since 2006. Azerbaijan has attracted global attentions for hosting international events and its membership in the international organizations. Azerbaijan is a member of the World Tourism Organization.
"The number of tourists arriving in the country increased from 400,000 in 2001 to two millions in 2006," he said.
He pointed out that at this stage Azerbaijan wants to promote its tourism industry to the level of developed countries.
"This requires new management techniques, new conditions and greater demands for quality," Garayev added.
The Head of the EU Delegation to Azerbaijan Malena Mard said it is important to exchange experiences with Azerbaijan.
"The Sixteen-month twinning project has already yielded positive results, and now it is necessary to use them," she said.
Mard stressed, that Azerbaijan has a great number of opportunities for promoting its seaside and winter tourism.
"We consider it important to cooperate with Azerbaijan and support its Culture and Tourism Ministry. I am glad that the visa facilitation and readmission agreements between the EU and Azerbaijan will come into force in the autumn," she said.
She noted that these agreements will have a positive impact on the tourists flow into the country.
Azerbaijan is enlarging its tourism capacities year by year. There are currently 530 hotels and hotel-type facilities and some 241 travel agencies in the country.
The number of tourists who visited Azerbaijan in 2013 reached 2.4 million, and they spent some $700-800 a week on accommodations, food, and cultural programs.