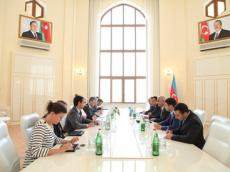 Swedish companies can invest in infrastructure of Azerbaijan and other areas.
This statement was made at the meeting of Azerbaijani Minister of Economy and Industry Shahin Mustafayev and a Swedish delegation led by Minister for Trade Ewa Björling, the ministry told Trend on June 12.
Mustafayev stressed that Azerbaijan attaches great importance to international cooperation.
He emphasized the importance of expanding the legal framework in the development of relations with Sweden, signing an agreement on avoidance of double taxation.
It was stressed that the opening of the Swedish embassy in Azerbaijan will play a significant role in the development of relations.
"The priority is given to industry, metallurgy, petro-chemistry," Mustafayev said.
He added that the expansion of economic cooperation with Sweden will be beneficial to both sides.
The minister also informed about the occupation of 20 percent of Azerbaijani territory by Armenia and stressed that the Armenian-Azerbaijani Nagorno-Karabakh conflict hinders the development of regional integration.
Bjorling appreciated Azerbaijan's accession to the Eastern Partnership initiative. She stressed that Sweden is actively cooperating with Azerbaijan in this sphere.
It was stressed at the meeting that Swedish companies can invest in infrastructure, health, education and other areas in Azerbaijan. Bjorling expressed confidence that cooperation between the countries will expand in the future.

/Trend/