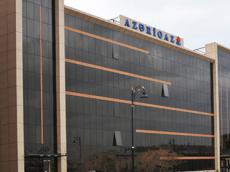 "Azerigaz" Production Association (PA) of the State Oil Company of Azerbaijan independently is carrying out detailed engineering of a project of complete renovation and modernization of the gas distribution system in Baku, a source at the SOCAR told Trend.
Earlier, the German E.ON prepared and submitted to SOCAR a feasibility study (FS) for the reconstruction and modernization of the gas distribution network of Baku and Absheron, which requires certain transformations.
"The work on the detailed engineering of the project will be completed in the next year," the source said.
The source did not give a timeframe for the project's implementation.
In total, the project may require about 1.2 billion euros of investment and it is planned to implement it fully through foreign investment. The reconstruction process will take at least three years from the time it begins.
The project intends to minimize gas loss, expand and rebuild the current gas distribution system, take into account the population growth and the sustainable development of the industry, as well as to meet the increased demand for natural gas in the future.
At present, attention is focused on the improvement of the gasification level of the country. The PA deals with the distribution and sale of gas in the territory of Azerbaijan. As part of the improvement of the gas supply, the gasification level is expected to reach 95 percent.
In total, there are about 1.7 million gas subscribers in the country, more than 700,000 of which are in Baku.

/Trend/