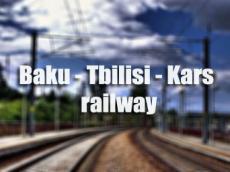 By AzerNews
The construction of the Baku-Tbilisi-Kars (BTK) railway is planned to be completed in late 2015.
The news was announced by Turkey's Minister of Transport, Maritime and Communications Lutfi Elvan.
The latest discussions on the project were held in Tbilisi with the participation of the Azerbaijani, Georgian, and Turkish Presidents, he told Trend Agency on May 22.
Elvan stressed that although 80 percent of the work on the Turkish section of the railway has been completed, work in the Georgian territory has been delayed.
"Delays are particularly observed in the construction of 2,700-2,800 meters of tunnels in Georgia," he stressed.
He went on to say that Azerbaijan and Turkey have called on Georgia to complete the work in its territory.
Elvan pointed out that once the construction of the Marmaray railway tunnel in Turkey is completed and the Baku-Tbilisi-Kars railway is commissioned, a direct rail link from London to Beijing will be created.
In addition to strengthening the relations between Azerbaijan, Georgia, and Turkey, this project will also link all the countries from Central Asia to China, he said.
The BTK railway is a regional rail link project that connects Azerbaijan, Georgia, and Turkey.
Azerbaijan has allocated a $775 million loan to the construction of the Georgian section of the railway.
Financed by the State Oil Fund of Azerbaijan, the project was implemented after Azerbaijan's President issued a decree on the 'Implementation of measures within the Baku-Tbilisi-Kars project', on February 21, 2007.
The total length of the BTK is 826 kilometers (about 513 miles). After commissioning the railway, mutual trade between Azerbaijan, Georgia, and Turkey will increase significantly, the total volume exceeding $10 billion per year.