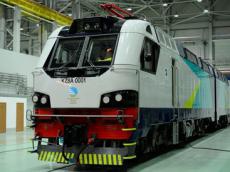 Alstom International compnay will supply 50 KZ8A freight locomotives for the Azerbaijani railways. The contract on the supply was signed in Baku within the framework of the Azerbaijani-French business forum in the presence of President of Azerbaijan Ilham Aliyev and President of France Francois Hollande.
As the report said, the locomotives will be assembled in Alstom's JV EKZ between 2016 and 2018. The total amount of the contract is €300 million. Alstom's share amounts to around €150 million. The contract also includes the construction of a depot, technical assistance and maintenance, as well as training for clients`s staff. These are subject to negotiation within the next six months.
Alstom also signed within the framework of the forum a Memorandum of Mutual Cooperation with Baku Metropolitan with a view to develop modern metro cars for both the new lines and the gradual replacement of the existing fleet of Baku metro. Both parties have agreed to sign a final agreement in the coming two months.
Alstom is a global leader in the manufacture of equipment for generation and transmission of electrical energy and railway infrastructure. The company operates in the markets of about 100 countries. Alstom has been operating actively in the Azerbaijani market for over 20 years

/Trend/