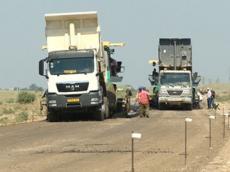 By AzerNews
The proposal of a project called "Regional Road" will be submitted to the Board of Directors of the World Bank in November.
The statement came from the Head of Bank's Baku office Larisa Leshchenko.
"Hard work is underway on the project. The working group is working on the details," she said.
"The negotiations with the government have already been completed," Leshchenko said.
"WB is ready to provide $ 200 million for the implementation of the project," she added.
The WB is one of the most important organizations, cooperating with Azerbaijan, which joined the bank in 1992. Official talks on 51 projects have been held since Azerbaijan joined the Bank.
Loan agreements totaling $3.349.5 billion were signed to finance them. About $1.7 billion of the amount was allocated for the implementation of road projects.
The largest loan worth $670 million was allocated for improvement of the railway infrastructure and in particular, the reconstruction of the track on the Baku-Boyuk Kesik border with Georgia section.
The World Bank also finances the modernization of road sections of the existing East-West and North-South corridors, namely the Alat-Masalli third highway, rehabilitation of the Kurdamir-Ujar section of the Baku-Georgian border highway, rehabilitation of the Baku- Shamakhi road, reconstruction of the road from Tagiyev settlement to the Sahil settlement bypassing Baku, Hajigabul-Bahramtepe road and expansion of the Baku-Shamakhi/Muganli highway.
The total length of roads in Azerbaijan stood at 19,000 km in 2013, compared to 18,750 km in 2003. The length of the constructed, reconstructed, and repaired motor roads in Azerbaijan has reached 8,332 km in 10 years, and more than 220 new bridges and overpasses were built and commissioned.