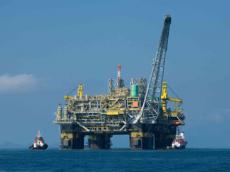 The State Oil Company of Azerbaijan (SOCAR) has commissioned a new well at Guneshli field, a message posted on the company's website said on April 18.
The well has been drilled in the Interval suite by the SOCAR-AQ? LLC, according to the company's website.
The well has been accepted to the operating fund with the daily production of 75 tonnes of oil and 11,000 cubic meters of gas from the depth of 3,065-3,027 meters.
The well has been drilled by request of the 'May 28' Oil and Gas Production Unit (OGPU) of SOCAR.

/Trend/