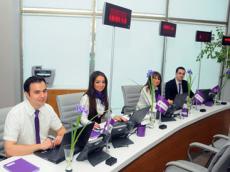 Azercell holds position of the leading company creating and implementing an innovative model of customer service system since its foundation in 1996.
The company is constantly improving on customer service sharing its expertise in this field with a wide range of organizations and companies operating in the country. Recently, Azercell introduced another innovative solution for the convenience of its clients with the start of summer season. Customer Service Center of Azercell, located at 2, Basti Bagirova str., will operate from 09:00 am to 23:00 during the week.
It should be noted that Azercell is the first company offering this concept of customer service in our country. This innovation will allow subscribers to make more effective use of their time, with almost non-stop access to the customer service of Azercell.
Azercell distinguishes for its innovative initiatives in the sphere of customer service. The company opened its first call center functioning 7/24, in 2008 and established the first Regional Call Center in Ganja in 2009.
The company provides not only face-to-face services for its customers, but also virtually through online solutions, constantly improving the quality of these services in social networks.
Azercell has also received numerous awards for successful efforts to ensure customer satisfaction. Thus, in 2011, the company was awarded with international certificate (Quality Management - Customer Satisfaction - Customer response guidelines) of compliance with the international standards of ISO 10002.2004.
Azercell Telecom is also the first company in the region, which was awarded with the Medal of EN15838 (Customer Contact Center). Moreover, Azercell was awarded a diploma from Socialbakers research company for the rapid response to subscribers' inquiries via social media channels.
Currently Azercell Telekom owns 19 express offices in Baku and 30 in the regions of our country. Moreover, four Customer Service offices operate in Baku and six in the regions, which is a clear evidence of effective operation and ongoing development of Azercell Telecom.
Azercell Telecom LLC was founded in 1996 and years sustains a leading position on the market since the first years. Azercell introduced a number of technological innovations in Azerbaijan: GSM technology, GPRS/EDGE, 24/7 Customer Care, full-time operating Azercell Express offices, mobile e-service "ASAN imza" (ASAN signature) and others. With 51 percent share of Azerbaijan's mobile market Azercell's network covers 99.8 percent of the country's population. The number of Azercell's subscribers reached 4.5 million people by late 2013. Azercell deployed 3G in 2011 and the fourth generation network - LTE in Azerbaijan in 2012. The company is the leader of Azerbaijan's mobile communication industry and the biggest investor in the non-oil sector. Azercell is the part of the TeliaSonera Group of Companies, which has subsidiaries in more than 20 countries with total number of 186 million subscribers and 27,000 employees.

/Trend/