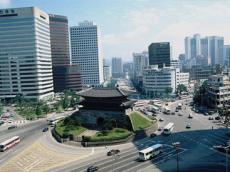 The State Oil Fund of Azerbaijan (SOFAZ) has acquired prime office complex, Pine Avenue Tower A in Seoul, South Korea for USD 447 million, a message from the Fund said on April 1.
The purchase of the property has been realised through a competitive auction process organized by Mirae Asset Management on behalf of the four owners (NongHyup Bank, NongHyup Life insurance, Woori Bank and KDB Life Insurance).
This is the first acquisition by SOFAZ in the Asia Pacific region. Seoul is one of the most attractive investment destinations in Asia providing steady gains across the office sector for many years. It is underpinned by a strong domestic economy and a well-capitalised financial sector.
Pine Avenue Tower A is located in central business district (CBD) of Seoul, a sought after area by leading Korean as well as international tenants. The property was built in 2011 and is one of the very few trophy assets recently completed in the Seoul CBD area. The property's Class A specifications position it well to cater to the needs of discerning tenants, generating long term value. The gross floor area (GFA) of the property is approximately 65,000 m2. The asset is solely leased to S&K Group, one of the largest conglomerates of South Korea. Net rental income of the asset is USD 23.4 million per year.
SOFAZ Executive Director, Shahmar Movsumov commented on the latest acquisition:
"We have sought investment opportunities in key gateway Asian capitals for over a year and today I am delighted to announce that we have finally made our first acquisition in Seoul. This is a large transaction and shows our belief in the continued strength of major Asian real estate markets which have shown stable returns historically. We will continue to look for similar investment opportunities in Asia Pacific region"
The State Oil Fund of Azerbaijan, the sovereign wealth fund, was set up in December 1999 by the Presidential Decree as an extra-budgetary entity which accumulates and manages oil and gas revenues of the country. The Fund's primary objectives are to help maintain macroeconomic stability in the country and to generate wealth for present and future generations. As of 01 March, 2014, assets of SOFAZ totalled USD 36 319 mln. Purchase of this property was realised in accordance with the amendments under the Presidential decree ? 519 dated October 27th, 2011 made to "Rules on management of foreign currency assets of the State Oil Fund of the Republic of Azerbaijan". By the investment policy overall value of the investment portfolio can be invested into the gold, equities and real estate with maximum limit of up to 5 % per each financial tool.
/Trend/