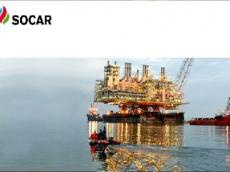 By AzerNews
Azerbaijan's state energy company SOCAR is planning to set up a new platform at the Darwin Bank field in the Azerbaijani sector of the Caspian Sea.
The platform is supposed to drill 10 wells. The sea depth on the site where the platform will be installed is 8.5 to 9 meters.
SOCAR, the only producer of oil products in the country includes Azneft Production Association, which runs onshore and offshore oil producing companies, Azerkimya Production Association, and Azerigas Production Association.
Azerbaijan's energy giant SOCAR is involved in exploring oil and gas fields, producing, processing, and transporting oil, gas, and gas condensate, marketing petroleum and petrochemical products in domestic and international markets, and supplying natural gas to Azerbaijan's industry and public.
The company runs several gas stations in Azerbaijan, Switzerland, Georgia and Ukraine. It has representative offices in Georgia, Turkey, Romania, Austria, Switzerland, Kazakhstan, Great Britain, Iran, Germany, and Ukraine, and trading companies in Switzerland, Singapore, Vietnam, Nigeria, and other countries.