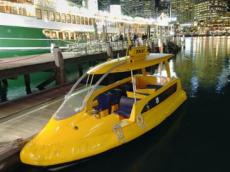 By AzerNews
Small sea taxis, a new type of transport, will be put into operation in Baku Bay.
The head of Azerbaijan State Maritime Administration said the small sea taxis will operate in the Baku Bay in the near future.
At a meeting with deputies of Azerbaijani Parliament on March 11, Gudrat Gurbanov said sea taxis will run from the State Flag Square to the Ahmedli settlement in Baku and back.
He also noted that in the future such taxis will connect Baku Bay Beach to the Nargin Island in the Caspian Sea, in which beautification work is currently underway. Speedboats will allow passengers to get to the island in five to eight minutes.
Gurbanov said a port for the sea taxis will also be near the Parachute tower in the Baku Boulevard.
He also said that four recreational boats were delivered to the bay.
Noting that the functioning of the sea taxis on the Baku-Lankaran route is unprofitable, Gurbanov said reaching Lankaran by sea will take 6.5 hours, which is disadvantageous in terms of saving time and also from a financial point of view.
He also said the sea taxis will operate in five directions.