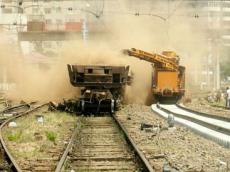 Azerbaijan Railways started overhauling an 800 metre section of Balajari station, in Baku, according to the statement.
The repair of one set of railway points has started.
'The repair will be completed within a few days', according to a statement.
More than 400 metres of lines to be reconstructed were dismantled.
Azerbaijan Railways overhauled 2375 metres of railway lines at Guzdek station in early March 2014.
/Trend/