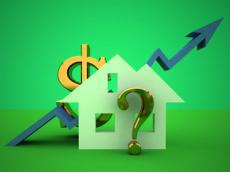 By AzerNews
The real estate market of the Azerbaijani capital Baku saw a price hike in January, which is a sign of new tendencies in this segment.
Average price per one square meter of the primary housing in Baku rose by 3.05 percent, reaching $1,181 in January, 2014. Primary housing went up by 33.9 percent compared to January 2013.
Contrary to the trend of cheaper lands observed in Baku in the second half of 2013, land prices increased in January 2014; the average cost of one hundred square meters of land in the capital rose by 2.35 percent, from $17,240 to $17,646.
This tendency emerged amid the expansion of house demolitions carried out in the Nariman Narimanov (former Sovetskaya) avenue, one of the central avenues in Baku.
Baku City Executive Power started the demolition of houses in this avenue on February 10 under the General Plan which covers the period up to 2030. The low-rise old buildings in this avenue have no architectural value and the territory was regarded as an obstacle for the development of the capital city. After the renewal, the territory will gain a new and better appearance with new parks, squares, and social facilities.
The developments also affected land prices in the remote areas of the capital city. Major active areas in Baku's land market remain the Nasimi, Yasamal, and Narimanov districts, while more passive areas are the Sabunchu and Garadag districts. Thus, the most expensive land plot in January was offered in the Nasimi district ($350,000 for a one hundred square meters), and the cheapest was in Masazir settlement ($383 for a one hundred square meters).
Local experts believe that the flow of thousands of buyers to the real estate market in such a short time will lead to an increase in demand and prices. Given that compensation is AZN 1,500 ($1,912.2) per a square meter, the greatest demand is expected to be for two- and three-bedroom apartments located within the boundaries of the city center.
Furthermore, potential buyers without waiting for a rise in prices will try to solve the housing problem in a shorter time, which in turn will create additional demand in the housing market.
The current forecasts show that growth in price in new buildings is expected at the level of 15-20 percent, while it will be 10-15 percent in the secondary market in 2014.
The demolition of old buildings will also lead to a certain rise in the costs of rental houses in the central area of Baku.