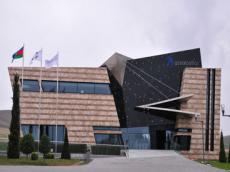 By AzerNews
Azerbaijani space agency "Azercosmos" is summarizing the results of a tender for the construction of a universal ground station that will receive Earth surface images from the satellites flying over the region.
The news was announced by the ICT ministry last week.
The universal ground station equipped with a radar system with Synthetic Aperture Radar (SAR) will render the optical satellite services.
The main purpose of constructing the ground station is receiving terrestrial images of the infrastructure from different satellites (optical and radar) in real-time.
Receiving images from satellites and using the universal ground station will contribute to meeting key goals, including monitoring the borders, assessing marine pollution and oil leaks, and monitoring the waste products of the oil and gas industry.
It will also serve the purposes of weather forecasting, studying the environment and natural resources, obtaining information for mapping and urban planning, supporting disaster management efforts and addressing emergencies, supporting agriculture, etc.
The optical and radar images obtained from satellites have been rendered to the Azerbaijani public bodies and security agencies since 2013.
The Azerbaijani optical satellite will be launched in 2017. Azercosmos has also long-term plans to launch a low-Earth orbit satellite in 2016.
The Azerbaijani satellite operator is preparing a business plan for using space radar and optical images in Azerbaijan and the markets of regional countries.
Azercosmos regularly negotiates with organizations that may become the potential buyers of the satellite images. Negotiations are informative in nature and designed to create a favorable atmosphere for future cooperation.
The first Azerbaijani satellite Azerspace-1, which was launched in February 2013, was designed to offer digital broadcasting services, Internet access, and data transmission, create multiservice VSAT networks, and provide for governmental communication.
It covers Eastern Europe, the Caucasus, Central Asia, and North Africa. Some 80 percent of the satellite's resources are available for commercial purposes.