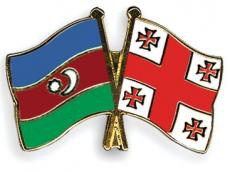 Georgia and Azerbaijan are developing a single information system for customs checkpoints, head of the Centre for Information Technology Services revenue which is the department that combines the functions of tax and customs authority of the Georgian Finance Ministry, Vakhtang Lashkaradze told
Trend
on Feb. 17.
"Our department is actively cooperating with colleagues from Azerbaijan and in particular with the State Customs Committee (SCC) of the country. In early February we launched a test mode information exchange system for imports and exports at the Red Bridge customs checkpoint and from the Azerbaijani side, the Sinig Korpu Customs checkpoint," he said. "A pilot project on the creation of a single customs post has also been launched."
He added that significant time savings will be achieved.
"Prior to a country sending out goods, the relevant customs officials will promptly fill out the data and even before the goods arrive in the territory of one of the states, the customs authorities of that state will have all the information," Lashkaradze noted.
The Centre's head also said the Georgian side had come up to speed with the new software for operating such a system during a meeting with the Azerbaijani representatives of the State Customs Committee.
"Work on the unification of forms and types of data collected by the Azerbaijani and Georgian customs officials are already 80 percent complete. Certainly one of the challenges with this project is the language, but this issue is also being resolved," he said. "In the case of the pilot project`s success, the same system will be launched at all customs points along the Azerbaijani-Georgian border."
"Tbilisi will host a meeting of European customs administration heads in March this year. We hope that work on the relevant agreement on the development of an information exchange system will be completed by this time and its signing take place in the framework of this event," a Georgian Finance Ministry representative said.
There are six operating customs posts subordinate to the Balakan and Tovuz customs offices between Azerbaijan and Georgia, namely Sadikhli, Sinig Korpu, Jandargol, Mazimchay, Muganli automobile posts and the Beyuk Kasik railway.
Azerbaijan is Georgia's second largest trade partner after Turkey. According to 'GeoStat' (National Statistical Service of Georgia), the trade turnover between Azerbaijan and Georgia was $1.35 billion in 2013, increasing by 7.14 percent.
For a comparison, in 2012 the trade turnover between Azerbaijan and Georgia amounted to 1.26 billion dollars.