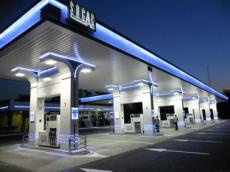 The State Oil Company of Azerbaijan (SOCAR) has commissioned four gas stations under its own brand name in Romania, a message posted on the website of SOCAR's representative office in Romania said.
New gas stations under SOCAR's brand name were commissioned in the cities of Buzau, Focsani, Bacau and Adjud.
Thus, the total number of SOCAR's gas stations in Romania amounted to 24. The work on expanding SOCAR's gas station network in Romania continues. Stations in several large cities of Romania will be commissioned soon.
Earlier, head of SOCAR's representative office in Romania Hamza Karimov said that it is planned to increase the number of gas stations operating under SOCAR's brand name in this country.
The State Oil Company is the only producer of oil products in the country (it has two refineries), and also has petroleum stations in Azerbaijan, Georgia, Ukraine, Romania and Switzerland.
SOCAR exported nearly 1.04 million tons of oil products from its refineries in 2013 compared to over 1.24 million tons in 2012. In total, around 5.09 million tons of main oil products were produced in Azerbaijan in 2013.
/Trend/