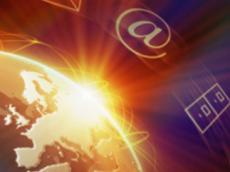 By AzerNews
The technical and financial issues related to the construction of the Trans-Eurasian Information Super Highway (TASIM) will be resolved by mid-2014, Azerbaijan's Communication and Information Technologies Minister Ali Abbasov said on February 6.
Addressing the 17th Eurasian Economic Summit, which was held in Istanbul on February 4-6, Abbasov noted the length of TASIM will amount to 11,000 kilometers and its initial network bandwidth will reach 2 Tbit/s, which will cover the existing demand of the Eurasian countries from Western Europe to the Pacific.
"We believe that the financial, technical and other issues will be resolved by mid-2014. Currently, the secretariat of the consortium and the TASIM office is financed by the Azerbaijani government," the minister stressed.
The TASIM project envisions the creation of a major transit link from Frankfurt to Hong Kong. The line will connect the major centers of information exchange in Europe and Asia together, stretching through China, Kazakhstan, Azerbaijan, Georgia, Turkey, and Germany. A reserve North transit line will traverse the territory of Russia, Ukraine, and Poland.
Abbasov believes that 2013 was a significant year for the TASIM project. A Memorandum of Understanding on the establishment of the TASIM consortium was signed within the framework of the 19th international exhibition and conference BakuTel-2013 which was held in December in Baku.
The minister also said the establishment of an alliance will not only expand the broadband Internet and related services, but also have a positive impact on the formation of an open information society, the establishment of knowledge-based industries in the ICT sector, as well as diversification of the economy in the region.
In September 2013, the UN General Assembly passed a resolution supporting Azerbaijan's initiative on establishment of Eurasian Connectivity Alliance (EuraCA) and construction of TASIM.
"We believe that EuraCA will become a significant platform for constructive discussion and resolving of the existing problems in the Eurasian region. The main goals of EuraCA are to expand the network infrastructure, to provide qualitative and accessible connectivity and to accelerate the process of implementation of the TASIM project," the minister added.
TASIM which aims to lay down a transnational fiber-optic line covering the countries of Eurasia, from Western Europe to Eastern Asia will be implemented in two stages. The project is expected to come on stream at the cost of $100 million.