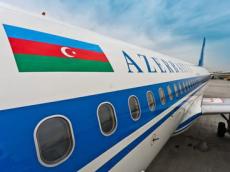 By AzerNews
Azerbaijani Airlines (AZAL) announced a campaign in connection with the World Azerbaijanis Solidarity Day and New Year.
The campaign offers "round trip" flights to London, Milan, Rome, and Prague for a mere €199, the company announced.
Tickets can be purchased on December 25-31, while the date of departure will be from January 15 till February 28, 2014.
However, the price does not include airfare taxes and fees, and the rebooking and refund of the tickets are not allowed.
AZAL will also raise the standards of hand luggage. The standards for economy class passengers on AZAL's international flights will increase from 5 kilograms to 8 kilograms, while it will increase from 10 kilograms to 15 kilograms for business class passengers from December 25.
The size of hand luggage should not exceed 115cm (55x20x40).
Being the biggest Azerbaijani airline and national flag carrier, and a regional and CIS leader in the number of new aircrafts, AZAL offers its passenger flights to European countries, the CIS, Middle East, and Asia. After purchasing new Boeing aircrafts for long-haul flights in 2014, the airline plans to open regular flights to several destinations in North America and Southeast Asia.
The company cooperates with about 60 airlines to provide its passengers with an opportunity to travel freely around the world.