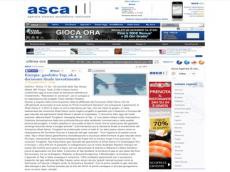 The Italian ASCA information portal has issued an article highlighting the signing of the Shah Deniz 2 Final Investment Decision.
The article provides an insight into the Trans-Adriatic pipeline (TAP) project, saying that via TAP a range of European countries will be provided with the Azerbaijani gas.
The author also stresses the role of the TAP project in transportation of Azerbaijani gas to Europe.
The article touches upon the statement of the Managing Director at TAP Kjetil Tungland on the decision of the Shah Deniz consortium. According to him, this decision is another historic step in the realisation of the Southern Gas Corridor. The newspaper says Tungland stressed that by opening up this new gas transportation route, TAP and Shah Deniz would ensure the diversity and security of gas supplies to Europe and enhance the strategic importance of the countries along its route.

/AzerTAc/