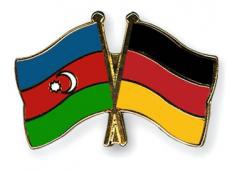 By AzerNews
Azerbaijan invited Bavarian companies to invest in the Sumgayit Chemical Industrial Park near Baku.
The news was announced by Deputy Head of Entrepreneurship Development Department under the Economy and Industry Ministry Huseyn Pashayev on November 28 at the third Azerbaijani-Bavarian business forum in Baku.
Pashayev said representatives of around 22 Bavarian companies who arrived in Baku consider construction, energy, chemical and food industries important for Azerbaijan.
"A solid legal base has been created for cooperation between Azerbaijan and Germany. Around 29 intergovernmental documents have been signed," Pashayev said.
Head of Foreign Economy and Marketing at Bavarian State Ministry of Economic Affairs and Media, Energy and Technology Ulrike Wolf said Bavaria plays an important role in the development of Azerbaijani-German relations.
She also said around 36 percent of German companies operating in Azerbaijan represent Bavaria, and nearly one third of Azerbaijani companies in Germany operate in Bavaria.
The business forum was organized by Bayern International Gmbh, German-Azerbaijani Chamber of Commerce, and Azerbaijan Export and Investment Promotion Fund (AZPROMO).
The Sumgayit Chemical Industrial Park was established by presidential decree in 2011 to become a territory which has the necessary infrastructure, logistics, and management structures for the development of new and high technologies and research on energy efficiency, space and telecommunications, information technologies, and communications.
Diplomatic relations between Azerbaijan and Germany were established in February 1992. The Azerbaijani-German trade turnover amounted to $1.744 billion in 2012. In the first half of 2013, the figure was $1.066 billion.
There are over 100 German companies in Azerbaijan. German companies have also acted as contractors under 10 investment projects worth more than 460 million euros.