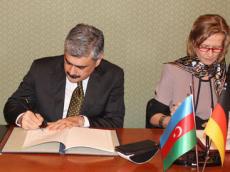 Germany will provide a soft loan of 370 million euros to the Azerbaijani government. A corresponding "Agreement on financial cooperation between the governments of Azerbaijan and Germany on projects agreed upon in 2008-2012" was signed by the Azerbaijani Finance Minister Samir Sharifov and German Ambassador to Azerbaijan Heidrun Tempel, the Ministry of Finance said.
According to the document, most of the credit (to be financed by the German bank KfW), namely 220 million euro, will be directed to the implementation of the infrastructure development program, as well as improvement of drinking water supply to the population of Ganja and Shaki.
"In addition, 130 million euro will be allocated to the open program on renewable energy and energy efficiency, and 20 million euros to the program for the environmentally sound management of waste," the statement said.
It was noted at the signing ceremony that the sides have successfully cooperated with each other based on mutual trust since 1993.
"In addition, the parties also work jointly on finances for infrastructure projects in the fields of renewable energy and environmental protection," the statement said.
/Trend/