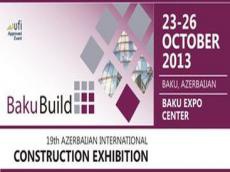 The volume of construction work has increased 14-fold in Azerbaijan over 10 years, Director of the Azerbaijan Export and Investment Promotion Fund (AZPROMO) Rufat Mammadov said at the opening ceremony of the 19th Azerbaijan International Construction Exhibition BakuBuild 2013 today.
According to him, the number of companies in this sector has reached 1480, whilst the share of the private sector is 77 per cent.
"Today Azerbaijani construction companies are working not only in Azerbaijan, but also taking part in major projects abroad," Mammadov said.
According to Mammadov, the production of building materials in the country for 10 years has increased by 2.5 times. The number of companies involved in this sector increased 11.7 per cent. As of today, loans worth 82.6 million manat were delivered to 523 producers of construction materials through the National Entrepreneurship Support Fund under the Ministry of Economy and Industry.
Caspian Construction Week is being held from 23 to 26 October. The event comprises three simultaneous exhibition projects: BakuBuild, Aqua-Therm Baku and CIPS Caspian. This year it will bring together more than 450 companies from 29 countries in one exhibition.
Participants will present the latest trends in their sectors. This will include: present state-of-the-art construction technologies, a wide range of building materials, sanitary ware, new flooring materials, construction equipment and playgrounds suitable for both public and private installation, sports and fitness equipment and much more. Among the new sectors will be lighting and sound equipment used in urban decoration.
Over recent years, the exhibition has developed a characteristic feature, the participation of companies in large national groups set up through the active participation of chambers of commerce and government agencies in those countries. There will be several regular exhibitors and national groups from Germany, Greece, Italy, Iran, Portugal and Finland will also be represented.
A team from the United Arab Emirates is making its debut at this year's exhibition.
Norm will act as this year's gold sponsor of the exhibition. Among the other sponsors are Holcim Azerbaijan and Emirates Steel (UAE).
The fifth anniversary of International Heating, Ventilation, Air Conditioning, Water Supply, Sanitary, Environmental Technology, Swimming Pools & Renewable Energy Exhibition, Aqua-Therm Baku 2013, will be held on the same date.
BakuBuild is organised by Iteca Caspian and ITE Group plc.
The official exchange rate is 0, 7844 AZN/USD on Oct. 23.

/Trend/