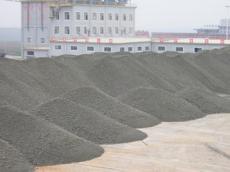 By AzerNews
Azerbaijan's largest cement producer, Holcim, primarily aims to improve the quality of its goods, not to increase production, Holcim's directors for sales, marketing and logistics Carlos Terres said on October 21.
"We produced 1 million tons of clinker and 1.7 million tons of cement last year. This year we will produce the same volume or slightly more. The overall market volume will reach 4 million tons of cement; a 10-15 percent growth is possible. Currently, the company has 40 percent of the market," Terres said.
According to him, Holcim is presently the only clinker producer in Azerbaijan.
"From this point of view, our main competitor is cement importers. Cement is imported from Iran, Turkey and Georgia. Currently the Azerbaijani market is quite large. All of our current products are aimed to cover the domestic demand, and from this point of view we do not see a need to export it," Terres said.
According to Terres, the entry of new players into the market at present, Norm and Akkord companies, means creation of competition.
"We don't intend to strive for keeping or increasing our market share, and we will focus our basic activity on growth and the quality of services, projects aimed at environmental protection and social projects," Terres said.
Holcim Azerbaijan effectively uses natural resources, minimizes and recycles waste, reduces energy consumption and cuts harmful emissions.
Baku hosts the second Eurasian Cement Forum, co-organized by the Russian company BusinessCem and Azerbaijan Export and Investment Promotion Foundation (AZPROMO), on October 21-22. The main topic of the forum is strategic and technical upgrade of the cement production at the modern stage of the economic development of Azerbaijan and CIS countries.
The event brought together representatives of more than 70 leading cement producers from 14 countries. A specialized exhibition was organized as part of the forum.
Opening the forum, Deputy Economic Development Minister Niyazi Safarov said that over the last 10 years domestic cement production increased 2.3 times and that of concrete mixes by 11 percent.
As of 2012, manufacturing of building materials ranked in Top 3 in the processing industry and covered 10 percent of the entire labor force in the country, Safarov said.
He pointed out that over the past 10 years the number of enterprises engaged in the production of construction materials has increased 11.7-fold.
"As of the results of 2012, 44 percent of the needs for cement was covered by domestic production and due to the modernization of the Holcim cement plant and bringing to full capacity of the Norm and Akkord companies' plants, we'll be able to cover the domestic demand for cement as early as in 2015 at the expense of domestic production," Safarov said.
The forum featured presentations of representatives from such world companies as Germany's Loesche, Mollers, Hazemag & EPR GmbH, Austrian Unitherm Cemcon, Russian ?nkontreyd, FLSmidht Russia, and Termo Texno.
According to the General Director of Azerbaijani company Norm, Hasan Yalcinkaya, the largest cement plant in the South Caucasus, Norm Cement, will be running at full capacity in 2014.
The production capacity of the plant, which was built in the Garadagh district of Baku, makes up 1.6 million tons of clinker and 2 million tons of cement per year.
"We are currently importing clinker, and we will start production of clinker in January 2014. We plan to produce 50,000-60,000 tons of cement by the end of this year; we will reach full capacity next year. We will begin retail sales of cement in October-November this year," Yalcinkaya said.
The plant uses modern technologies, and equipment from leading manufacturers in Germany, France, Switzerland and the Netherlands has been installed there.
According to Yalcinkaya, in total, the Norm Cement project required investments worth $400 million, and thus, the project has become one of the largest projects in the non-oil sector of Azerbaijan's economy.
Besides, the construction of the plant will cut the import of cement and Azerbaijan will reduce the annual outflow of capital from the country to $150 million. According to Yalcinkaya, now only the local market is of interest to the company and it does not currently focus on exports.
Deputy Chairman of Akkord Board of Directors Suat Chalbiyik said the Akkord cement plant currently produces 1-1.2 million tons of cement, and the investments made have reached 230 million manats.
"Within the second phase of production we intend to increase production of clinker up to 2 million tons and cement production to 3 million tons a year. We, as Accord, want to bring the production up to such a level that clinker and cement would be sold not only in Azerbaijan, but also in neighboring countries, together with all players in the cement production market," he said.
"Now we aim to cover the local market, which is big enough. As early as in 2016 we plan to increase the production capacity of cement to 3 million tons per year, as we estimate by that time the cement demand is going to grow up to 5.5-6 million tons," Chalbiyik said.
According to Chalbiyik, in order to bring the plant's capacity up to 3 million tons, the investment will be brought up to 450 million manats. Sources of financing additional investments have not been defined yet.