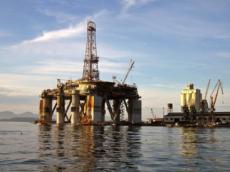 BP continues work on pre-drilling in Azerbaijani Shah Deniz field
Within the implementation of the second stage of development of the Azerbaijani offshore gas condensate field Shah Deniz, BP, which is the technical operator for the development of the field completed the drilling of well SDX-07, a source at the oil and gas market said.
According to the source, the designed depth of the well was 6,500 meters and its drilling was absolutely completed a few days ago.
"The drilling of the well was completed a few days ago and currently there is carried out work on drilling of the next well the designed depth of will also be 6,500 meters," the source said.
SOCAR commissions new platform in Caspian Sea
The State Oil Company of the Azerbaijan Republic (SOCAR) has commissioned a new offshore platform at the Darwin Bank field in the Azerbaijani sector of the Caspian Sea. The new platform has been installed at a water depth of 10 meters and is designed for drilling eight wells at an average depth of 1,040 meters.
Kazakhstan ratifies agreement on operation of pipeline to China
Kazakh President Nursultan Nazarbayev signed the law "On the Ratification of the Intergovernmental Agreement with China on Some Cooperation Issues in the Development and Operation of the Kazakhstan - China Oil Pipeline", the presidential press service reported.
Max Petroleum fails to find commercial hydrocarbons in appraisal wells in Kazakhstan
Max Petroleum Plc has completed drilling the SAGW-14 appraisal well in the Sagiz West field in Kazakhstan to a vertical depth of 1,423 metres without encountering sufficient hydrocarbons to be commercial and it will be plugged and abandoned.
In the Uytas field, the UTS-9 appraisal well reached a total depth of 550 metres, without encountering sufficient hydrocarbons to be commercial. The well will also be plugged and abandoned.
Turkmenistan, Azerbaijan, Turkey and EU discuss gas supply to Europe
Turkmenistan is discussing the opportunities of Turkmen gas supplies to Europe with Azerbaijan, Turkey and the EU, Turkmen President Gurbanguly Berdimuhamedov said today at an OSCE high level conference on energy security in Ashgabat.
The keynote of the event, organized in Ashgabat with the participation of Turkmen and Ukrainian foreign ministries (OSCE chairman) is "Energy security and sustainable development - the OSCE perspective".
"An effective form of cooperation with the EU has been created," President Berdimuhamedov said in his opening speech on energy cooperation. "At this stage, substantive work is being conducted to establish a legal framework for the implementation of a project for natural gas supply from Turkmenistan to Europe in the future.
The Turkmen President said that a joint committee of Turkmenistan, Azerbaijan, Turkey and the European Union is working in this sphere.