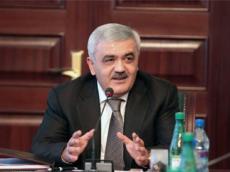 By AzerNews
The project on the construction of a carbamide plant in Georgia may require about $1 billion, the head of Azerbaijan's state energy company SOCAR Rovnag Abdullayev told media on October 14.
According to Abdullayev, who is currently on a visit to the neighboring country, the plant's construction will begin in 2014 and it will be Azerbaijan's largest investment project in Georgia.
"We want to implement a similar project in Kulevi," Abdullayev said, stressing that the design work is underway.
According to the SOCAR president, 3,500 to 4,000 workers will be involved in the construction of the plant and 700-800 people will be provided with permanent jobs.
Abdullayev went on to say that operations are also underway on the project for the construction of a carbamide plant in Azerbaijan. The construction of the facility is expected to be completed in 2016.
The general contractor of the project is South Korea's Samsung Engineering Co., Ltd. At this stage, the company jointly with some licensors producing ammonia and carbamide is preparing documentation which includes the basic requirements for the project and a description of the technological process, as well as technological schemes and additional systems required for carbamide production.
Approximately 40-45 percent of the plant's products are expected to be sold in the domestic market, which will fully meet the demand for nitrogen fertilizers in the country, while the rest of the 400,000 tons per year volume will be exported.
The new plant will be located in Azerkimya production association's industrial site in Sumgayit, a city some 30 km north of the capital Baku. The designed annual capacity of the plant will be about 600,000 tons of carbamide (2,000 tons per day) and 1,200 tons of ammonia per day.
Around 500 million euros (excluding taxes) will be allocated from the state budget to build the plant.