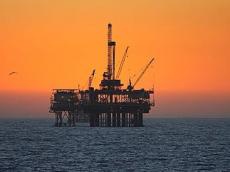 The State Oil Company of the Azerbaijan Republic (SOCAR) has commissioned a new offshore platform at the Darwin Bank field in the Azerbaijani sector of the Caspian Sea, according to a statement released by the SOCAR on Monday.
The report said that the new platform has been installed at a water depth of 10 meters and is designed for drilling eight wells at an average depth of 1,040 meters. The eight-block platform consists of two parts - the industrial and residential.
The platform, built by the Neftqaztikinti trust, has been accepted for the use by the State Reception Commission.
SOCAR includes Azneft (companies producing oil and gas on land and sea), Azerkimya (chemical industry), Azerigas (gas distribution) production associations. The State Oil Company also includes a number of processing enterprises, service enterprises, institutions engaged in geophysical and drilling activities.

/Trend/