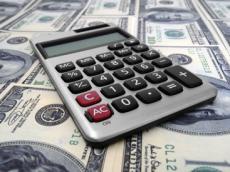 The revenues of Azerbaijan's state budget increased by 14.4 per cent in January-September2013 compared to the same period of 2012, Economic Development Minister of Shahin Mustafayev said at the October 7 meeting of the Cabinet of Ministers chaired by President Ilham Aliyev, which focused on the results of socio-economic development of the country over nine months of 2013 and outstanding tasks.
"Tax revenues from non-oil sector grew by 11.3 per cent compared to the same period of 2012. Under the state program of socio-economic development of the regions over the past nine months, great work was carried out to develop the infrastructure, including, in the construction and reconstruction of roads. Improving people's water, gas, electricity, heat and sanitation supply. Some 11 of 19 projects launched in 2012 were completed. These projects were related to the repair, restoration and reconstruction of rural roads, which play a crucial role in the development of regions," Mustafayev said.
Some 162 settlements were provided with gas, four power plants were commissioned, about 16 cities and regional centers were provided with drinking water during the reporting period, the minister said.
According to forecasts for 2013, the incomes of the state budget were approved at 19.159 billion manats (increasing by 12.4 percent), expenses - 19.85 billion manats (increasing by 12.1 percent), and the deficit of the state budget - 691 million manats (growth of 3.5 percent).
Transfers from the State Oil Fund to the state budget are provided at the level of 11.35 billion manats.
Azerbaijan's GDP for 2013 is projected at 56.1 billion manats, and economic growth - 5.3 percent.

/AzerNews/