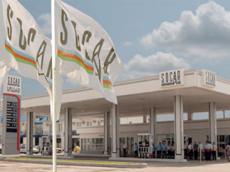 The Azerbaijani State Oil Company (SOCAR) intends to open six or seven gas stations in Georgia under its own banner by the end of this year, a source at the State Oil Company told on Friday.
According to the source, currently, there are around 110 gas stations in Georgia under SOCAR's name.
"Their number will be equal to 116-117 units by the year's end," the source stressed.
In addition, talking about consumption trends in oil products among car drivers in Georgia, the source pointed out that in recent years, this country has seen the growth of consumption of compressed natural gas.
SOCAR Georgia Petroleum, a subsidiary of SOCAR Energy Georgia is engaged in sales of oil products in Georgia.
The State Oil Company of Azerbaijan is the only producer of oil products with two refineries on its balance sheet in Azerbaijan and also owns refueling stations in Azerbaijan, Georgia, Ukraine and Romania and Switzerland.


/Trend/