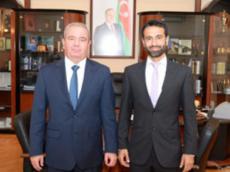 By AzerNews
The newly appointed British ambassador to Azerbaijan, Irfan Siddig, has said work on the participation of UK representatives at the International Telecommunications and Information Technologies Exhibition, Bakutel 2013, and conferences on cyber security will be accelerated.
In a meeting with Siddig, Azerbaijani Communications and Information Technologies Minister Ali Abbasov noted the mutual interest in the development of the ICT sector between the two countries and informed Siddig that UK consulting companies were involved in launching the Azerspace satellite into the orbit.
Azerspace-1, the first national satellite, was launched in February 2013. It covers Eastern Europe, the Caucasus, Central Asia and North Africa.
Abbasov also spoke about the established links with British Telecommunications, a major UK telecommunications provider.
Speaking about the reforms and projects implemented in the frame of the ongoing ICT Year in Azerbaijan, Abbasov cited favorable conditions for further expansion of cooperation between the UK and Azerbaijan in this field.
Siddig for his part said that in general, during his diplomatic tenure, he would continue efforts to expand ties between the two countries.
He praised the ICT Year as a priority area aimed to the future and expressed the UK interest in expanding bilateral relations in this sector following firm cooperation in the energy sector.
Azerbaijan achieved 10.5 percent growth in the ICT sector in the first half of 2013 compared to the same period of last year. In total, some 71.2 million manats have been invested in the domestic ICT sector.
Azerbaijan and the UK have benefitted from close bilateral partnership and cooperation since 1992, in the framework of international organizations such as the United Nations, OSCE, Council of Europe, and NATO. The relations have covered a wide range of issues -- from high-level political dialogue to growing trade and investment links, as well as strengthening cultural and humanitarian ties.