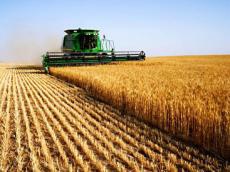 In 2013 the total agricultural production in Azerbaijan is expected to grow by 6-7 percent, Minister of Agriculture Ismet Abasov told in his article devoted to dynamics of the agricultural sector of the country for the last 10 years and published in official press on Monday.
According to the article data, in the first half of 2013 Azerbaijan produced agricultural products worth 2.123 billion manat, 0.91 billion manat in crop production, and 1.215 billion manat in livestock.
"To provide the crop of 2013, autumn and spring cereals (excluding maize) were raised on 1.033 million hectares of land, 67 percent (or 690, 819 thousand hectares) of which is used to raise wheat. As of 12 August 2013, the harvesting was completed on 99 percent of crop area," the article said.
As the Minister stressed in his article, the harvest volume increased by 4.3 percent compared to the same period last year.
"2.72 million tons of grain and grain legumes (except maize) were collected, of which 1.88 million tons are wheat. By the end of this year it is expected to collect 2.9 million tons of grain, which is higher than last year by 100,000 tons," Abasov noted.
/Trend/