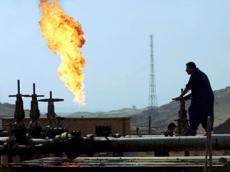 Shah Deniz-2 gas purchase agreement is important first step for supplying gas to south east Europe, BP Vice-President for Shah Deniz development Al Cook said following a contract signing ceremony in Baku on Thursday.
"All 9 companies are buying significant volumes of gas. However the exact figures are confidential. These companies are important customers and important consumers," Cook said.
According to BP Vice President, Bulgaria will receive 1 billion cubic meters of gas annually from Shah Deniz 2 field.
"Bulgaria represents itself as an important consumer. Shah Deniz consortium always considers South-eastern and Central Europe as potential customers. This represents the important first step for supplying gas to South-eastern Europe," Cook added.
He went on to add that the gas contracts which were signed are sensitive to the market demands within Europe.
"It is important that these gas contracts recognize the needs of the countries and the companies we are selling gas to. That is an important part of our offer and the reason why so many companies have expressed their desire to buy Azerbaijani gas," BP Vice President said.
The consortium of Azerbaijani Shah Deniz gas and condensate field development signed contracts in Baku on Thursday with the buyers of Azerbaijani gas in Europe.
The agreements signed today in Baku are long term gas contracts each for 25 years. The gas sales offers received from buyers were considered alongside the gas transportation offers that have determined the commerciality of the Trans Adriatic Pipeline (TAP) and its respective markets. During the selection process gas sale offers were received for more than double the volume of available gas from more than 15 different gas buyers across Europe.
The gas sales agreements are subject to the final investment decision on Shah Deniz Stage 2 which is planned for late this year. Following the final investment decision it is expected that the first gas will be delivered to Turkey in 2018 and to Europe in 2019.
The contracts on the purchase of Azerbaijani gas from the second phase of Shah Deniz field development (Shah Deniz-2 project) were signed with Shell, Bulgar gas,Gas Natural Fenosa, EON, Gaz de France, Hera, Enel, Axpo, DEPA.
Gas to be produced within the Shah Deniz-2 project is the main source for the Trans Adriatic Pipeline (TAP), which in June was selected as a route for transportation of Azerbaijani gas to European markets.
The TAP project is designed to transport gas from Caspian region through Greece, Albania and Adriatic Sea to the South of Italy, and then to the Western Europe.
The initial capacity of TAP will amount to 10 billion cubic metres per annum with the possibility of expanding to 20 billion cubic metres per annum.
Currently TAP's shareholders include BP (20 percent), SOCAR (20 percent), Statoil (20 percent), Fluxys (16 percent), Total (10 percent), E.ON (9 percent) and Axpo (5 percent).
The construction of TAP is planned to start in 2015.
The reserves of the Shah Deniz field are estimated at 1.2 trillion cubic meters of gas.
The first gas within Shah Deniz-2 project is planned to be obtained by 2018.

/Trend/