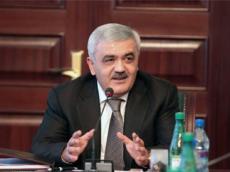 If after 2036 Azerbaijan will not extend the contract for the development of Shah Deniz gas and condensate field with foreign partners, all commitments on gas contracts will be undertaken by the State Oil Company of Azerbaijan Republic (SOCAR), the company's president Rovnag Abdullayev said at a press conference on Thursday.
According to him, in 2012 it was decided to extend the contract for five years, till 2036.
The total reserves of Shah Deniz field are estimated at 1.2 trillion cubic meters of gas.
The contract for development of the Shah Deniz offshore field was signed in June 1996. The agreement's participants are: BP (operator) - 25.5 percent, Statoil - 25.5 percent, NICO - 10 percent, Total - 10 percent, Lukoil - 10 percent, TPAO - nine percent, SOCAR - 10 percent.
Today, the Shah Deniz consortium signed contracts with Shell, Bulgar gas, DEPA, Gas Natural Fenosa, EON, Gaz de France, Hera, Enel, Axpo for the delivery of 10 billion cubic meters of gas from 2019.

/Trend/