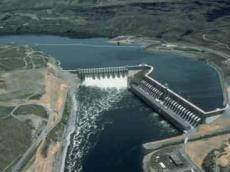 In the short and long term Azerbaijan plans to build 34 small hydro power plants (HPP) with a total capacity of 239.9 megawatts, the Ministry of Industry and Energy told Trend on Tuesday.
As the ministry said, the total average annual capacity of these plants will constitute 1.2 billion kilowatt hours.
Of the total number of HPP planned for the construction, 23 will be of the diversion type and will be located on unregulated rivers. The total capacity of diversion hydropower plants will be 127.2 megawatts. In particular, six diversion hydropower plants will be built on each of rivers Gudyalchay and Gusarchay, with a total capacity of 31.9 and 27.7 megawatts, respectively.
In diversion HPP's most of the pressure is created through special channels or tunnels, the so-called diversion culverts.
The remaining plants will be located on the channels, irrigation reservoirs and reservoirs planned for construction.
Now Azerbaijan is implementing a programme on construction of 15 small hydropower plants with a total production capacity of 77.2 megawatts. In the long term it is considered appropriate to launch 61 small hydropower plants.
The share of hydropower plants in the energy system of Azerbaijan is about 12 per cent.
Rivers in Azerbaijan have a hydropower potential of 40 billion kilowatt hours. It is technically possible and economically beneficial to produce 16 billion kilowatt hours of which five billion kilowatt hours are produced by small hydropower plants.

/Trend/