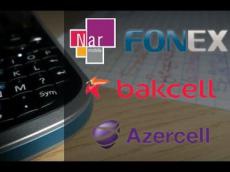 By AzerNews
Technical problems are slowing down the commissioning of the mobile numbers portability (MNP) service, Deputy Communications and Information Technologies Minister Elmir Velizade said on September 5.
MNP, which is implemented across the world, enables mobile telephone users to retain their phone numbers when changing a network operator.
According to Velizade, the ministry expects that mobile operators will solve the issue in the near future, otherwise, the matter will be taken to court.
"One can say that the issue of legal regulation, in a sense, is a warning to the operators to make every effort to resolve the issue of launching this service as soon as possible," he said.
According to the ICT ministry, the cellular operators have not met their obligations on the launch of the MNP service. Since the operators have not fulfilled the technical obligations for the launch of the service in their networks, financial damage was inflicted to the ministry. The ministry therefore plans to file a plea to court to have the financial damage compensated.
In August, two of the three Azerbaijani cellular operators, Bakcell and Azerfon, launched the service. Azercell has also expressed its readiness to launch the service, saying that the process is in its last testing phase.
The MNP system will be coordinated by a data processing center of the ministry. Agreements on rendering the service have been signed with the three operators operating in the domestic market -- Bakcell, Azercell and Azerfon.
A replacement will take about six days, while returning to the previous operator will be possible in three months if the user has no debt. However, the service is not available for SIM-cards used in Data-cards.
One of the project's important components is the subscriber's transition to another operator without outstanding bills. Otherwise, the service will not be provided.
Number portability envisions full migration of a subscriber's phone number with the operator's prefix by replacing the SIM card.
Operators have been instructed to use a 10-digit set of subscriber numbers. Thus, it is necessary to dial the operator's prefix (050, 051, 055, 070 or 077) and the seven-digit phone number.
The introduction of the MNP service will allow users to choose a provider, increase competition and also prompt operators to provide more advantageous services to attract new customers.