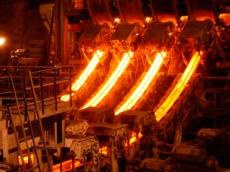 Source:
/AzerNews/
Baku Steel Company, the biggest producer of construction re-bars in the domestic market, has signed a contract with the Austria-based Siemens VAI company for the construction of a new steel plant in the port of Hovsan, a settlement in the Azerbaijani capital Baku, the company's head, Rasim Mammadov, said in an interview to the official press published on August 21.
According to the interview, the 100 million euro contract envisions an increase of the plant's production capacity up to 750,000 tons per year, as a result of consistent implementation of the casting technology.
The steel foundry is planned to produce steel square stock of 130 to 260 millimeters, as well as raw materials for pipes of the 110-350 millimeters diameter, which will be used by the Azerboru company.
Mammadov said that commissioning of the plant will allow to open more than 1,000 jobs.
During the last two years $45 million have been invested in the construction of new and revamping of existing sites, which has resulted in an increase of the company's annual capacity to 770,000 tons.
The company intends to start production of angles, channels, double tees, rolled wire, wires and other steel products, along with various re-bar profiles.
Baku Steel Company plans to invest an additional $30 million to increase its capacity up to 1,100,000 tons of steel this September.
According to Mammadov, the plant is carrying out extensive upgrade work.
"A large laboratory complying with the highest standards has already been deployed. The plant is being equipped with modern equipment delivered from Germany, Spain and Italy. After completion of the renovation work, on September 25, we will be able to reach the capacity of 1.1 million tons per year," Mammadov said.
Baku Steel Company, the first up-to-date steelworks in the Caucasus region, started operation in June 2001. The company has an experience of exporting its goods to Russia, Georgia, Turkmenistan and Iran.
The company uses an electric arc furnace (EAF) with the application of alternative energy supply, which is widely used in Germany, USA, France, Italy and other developed countries, a ladle-furnace, and a cutting-edge continuous casting machine (CCM).
Using a state-of-the-art steelmaking and continuous casting technology, the company produces different grades of steel billets with cross sections of 120x120, 140x140, 150x150 mm and the length of 12,000 mm, and hot-rolled re-bars with diameters ranging from 10.0 to 32.0 mm with the length of 6,000 to 12,000 mm.